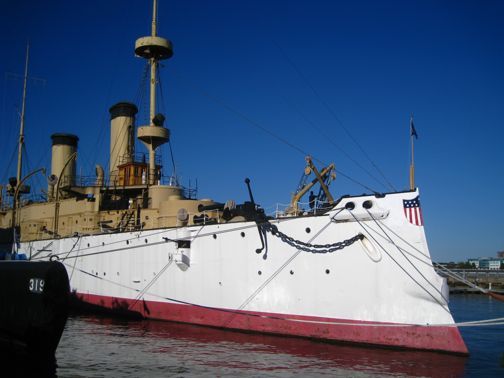 Been spending some time aboard the cruiser USS Olympia lately, helping volunteers and Naval cadets with repairs and sprucing up. I've been spending most of my time climbing on those winch arms ("davits") up by the prow.
The USS Olympia was Commodore George Dewey's flagship during the Battle of Manila Bay in 1898. It is the oldest steel hull battleship still afloat. She is the sole survivor of the US Navy's Spanish-American War fleet. Unfortunately, the hull is in danger of giving out, and about $10M is needed to repair and stabilize the ship. Historic steel-hulled ships should be drydocked for maintenance every twenty years, but Olympia has been in the water continuously since 1945.
At the moment, Olympia's future is uncertain; the Independence Seaport Museum is no longer able to fund the preservation costs for Olympia, and may have to sell the ship for scrap or sink her as an artificial reef. An independent non-profit corporation known as The Cruiser Olympia Historical Society was recently organized with the goal of preserving Olympia, but The US Navy has dropped the Olympia from budget requests year after year.
The USS Olympia will close to visitors on November 22, 2010, due to the poor material condition of the ship and a lack of operating funds.
Those interested in helping to save this unique piece of naval history should contact The Cruiser Olympia Historical Society.
(I know I had promised a more pleasant post this time. Apologies.)